VIEW4
1 charge. 3 days' use.
Extra-large 5000mAh battery
Upgraded to 5000mAh battery power to live moments fully and not choose between calling, surfing, gaming or chilling with tons of films! View4 runs for 3 days of intensive use with one charge, validated by Smartviser testing laboratory. Smartviser is an independant recognised expert in Test Automation of mobile devices. Through hardware and software optimisation, View4 offers a best in class experience in autonomy.
Intelligent triple camera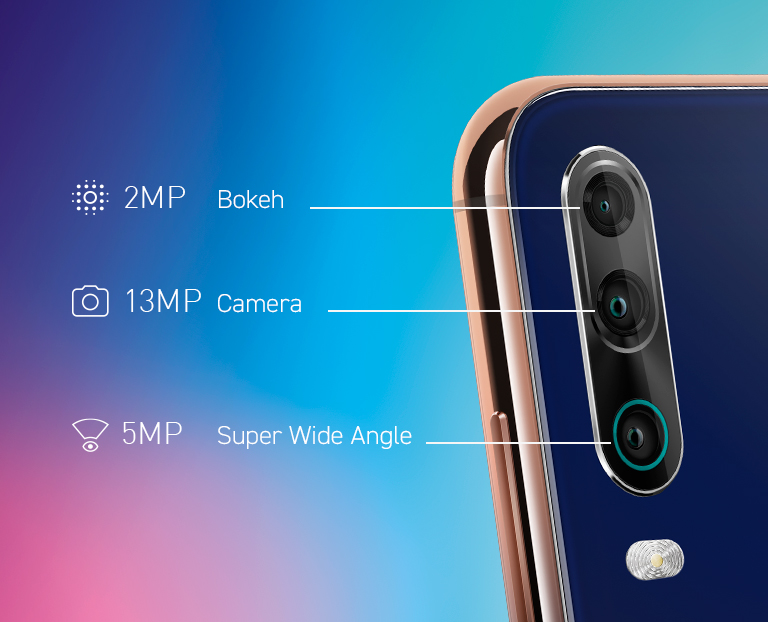 Triple camera with Super Wide Angle
Triple camera with Super Wide Angle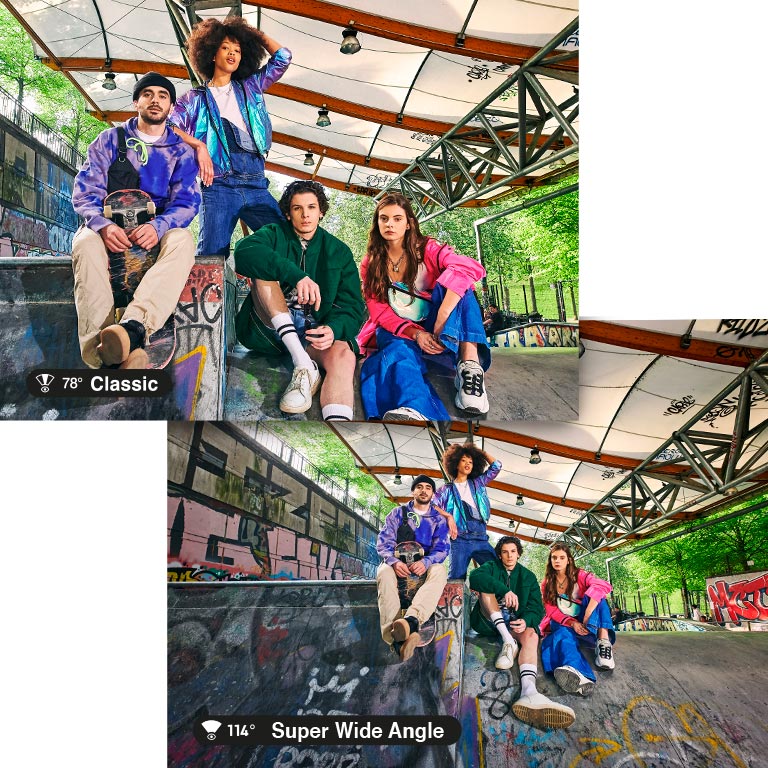 Shoot colourful and all-inclusive pictures at a pro level with View4's triple rear camera! Don't miss any part of your scenery with the 5MP Super Wide Angle camera. Perfectly adapted for easy 114° panoramas and ample group shots.
AI Powered camera
AI Powered camera
The main camera has AI smart features for automatic scenery detection and adjustment.
Bokeh mode for blurred effect
Bokeh mode for blurred effect
Customise your shots with a tint of special effects. View4's 13MP camera works together with its 2MP depth sensor in Bokeh mode for great blur effects.
Immortalise moments with fun videos
Immortalise moments with fun videos
Record and share your videos with View4's main camera with Slow motion and Time-lapse effects.
Ultra-large storage and octa-core
Ultra-large storage and octa-core
Max storage. Strong performance.
Worry free, space is allocated to save your data with 64GB of internal storage capacity to save 120 episodes of your favourite shows or 770 music albums or 35 heavy games. On top of that, increase your storage up to 256GB with a microSD card. Embedded is a powerful octa-core Mediatek A25 processor and 3GB RAM to support high speed boundless use of your apps and games.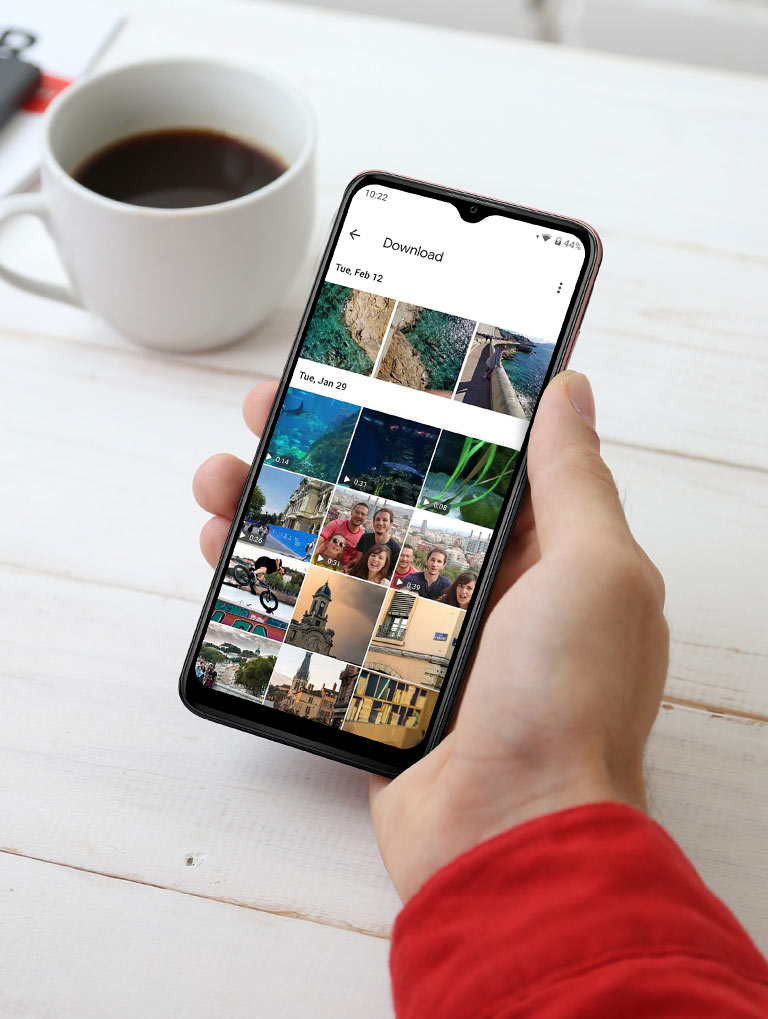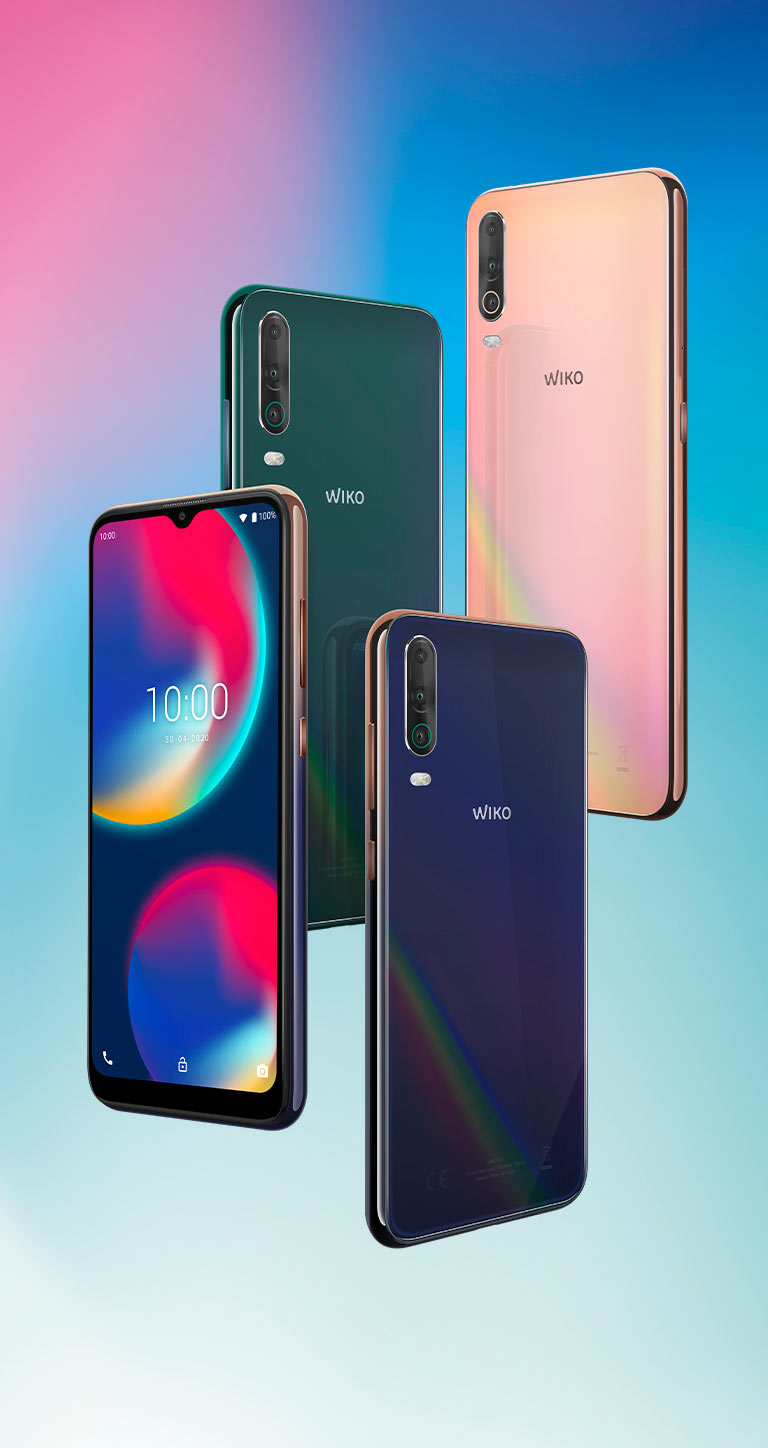 Enter a cosmic world
Enter a cosmic world
Inspired by the night sky, colours and light reflections reveal your premium side with the new Cosmic Blue, Cosmic Gold or Cosmic Green glossy mirror frame. Create your own rainbow with prismatic effects, by tilting the back cover below a light source, single bulb or light tubes. The gradient border envelops each curve in a colourful design. On top of that, Wiko's original tailor-made accessories highlight the premium design of View4, with added protection and ergonomic features.
6.52" Full screen for optimised immersion
Spot on, the new View4 features a large 6.52'' front display. The HD+ screen presents optimum visual comfort. Immersion is guaranteed with the borderless and minimalist V-shape display. An extended 20:9 widescreen brings games and videos to life.
Google Assistant button
Google Assistant button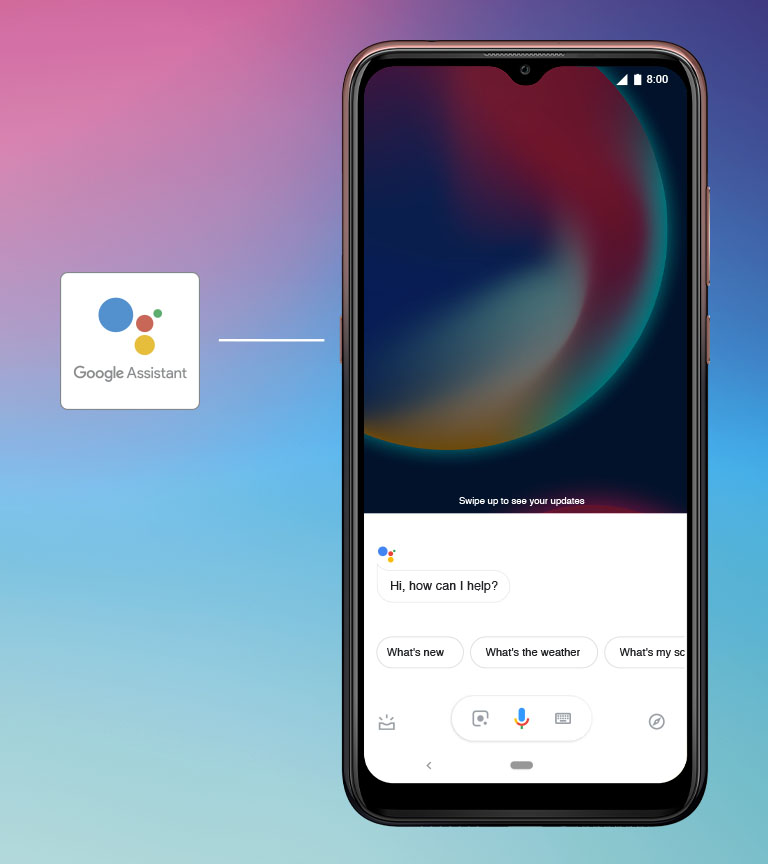 Instant functionality access
All new from Wiko for quicker access! Simply touching the integrated Google Assistant button opens the Walkie Talkie mode, where you can directly instruct Google to set your alarm, update your calendar, check the weather, turn on the flashlight, etc. No need to take time unlocking your phone or voice activating "OK Google".
Google features and easy access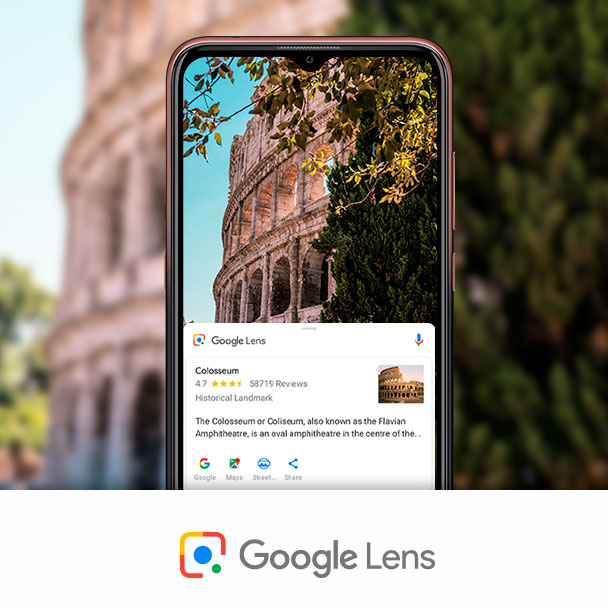 Voice control and Android™ 10
Activated by your voice, the integrated Google Lens™ will assist you in running searches about your photos or an object close to you and interact with the world around you.
Use all the latest Google innovations with Android™ 10, including Live Caption, Smart Reply, Gesture Navigation and Dark Theme. Your life has never been so easy!

* Android is a trademark of Google LLC
Face Unlock convenience
Fast and secured unlocking in just one look at your screen with Face Unlock.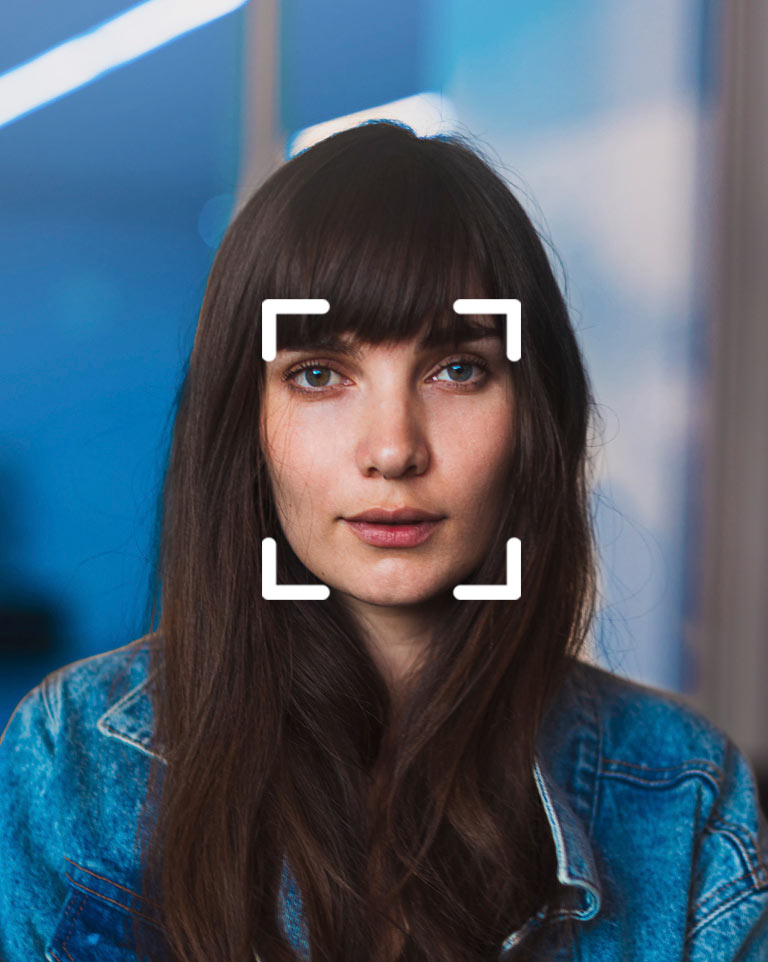 Wiko Original Accessories

Sleek smart folio
The improved smart folio has a smart window with a discreet interface to quickly glance at your calls, notifications and music all in one. The emphasis is on comfort with an easy grip and standing option, perfect for games and movies. The fresh, thin design is as stylish as it is practical. It comes in 2 shades: Smoked Grey and Smoked Bleen.

Hybrid protective case
The protective case features a transparent dual material for added protection. Its hard back cover safeguards View4 from unexpected falls and bumps, while the soft, enveloping frame can be easily popped on and off.

Printed tempered glass
The printed tempered glass ensures complete protection from shocks and scratches. An ultra-resistant layer of protection has an anti-fingerprint coating, while preserving touchscreen sensitivity.